The Lord of the Rings: The Fellowship of the Ring is older than my parents.
In a week's time, on the 29th of July, it's not only my best friend's birthday *waves* but it marks the date that in 1954 the Fellowship of the Ring was first published. Imagine if that hadn't happened. Just imagine. You can't do it, can you?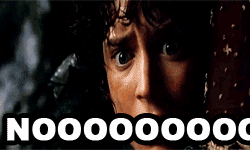 Didn't think so.
I can't quite believe it's been so long. You're probably thinking 'but it's only 63 years, Anjali. That's not a big anniversary'. And you'd be right, but I feel like any anniversary for The Lord of The Rings is a big one, because it's Lord of the Rings. Amiright?!
So while it's not a 50th or a 75th, it's still a big day, because without it New Zealand Would Still Be Unknown we wouldn't have had the epic story of Frodo and the ring, nor his best friend Sam (who, let's face it, is really the hero of the entire story), or the return of a King to his Kingdom, or Legolas' one-liners, or Gimli trying to run. We wouldn't have Merry and Pippin hanging out with a forest, Arwin choosing love over eternal life because Aragon is her life, or Eowyn rocking her kick-ass Nazgûl killing skills, we journey back home to Hobbiton… and we wouldn't have the beautiful story Tolkien so wonderfully gifted us.
To celebrate, I thought I'd put together this collection of awesome Lord of the Rings inspired gifts and bits-and-bobs you can find around the internet. Links to all the products are below. Enjoy, and remember to keep your feet; there's no knowing where you might be swept off to.
Not All Who Wander Are Lost Patch | Lord of the Ring Tolkien Quote | Wanderlust Iron on Camping Patches -SetterPress
Lord of the Rings Poster Rivendell Bed and Breakfast Travel Poster – DreamMachinePrints
Lord of the Rings, The Fellowship of the Ring pin – HannahHitchman
LOTR Romantic Cushion Cover – Ebay
Dwarf Runes | The Hobbit Book | Cabochon Necklace – Anjali Kay Creations
Smaug | The Hobbit Book | Cabochon Necklace – Anjali Kay Creations
Hobbit Hole | The Hobbit Cabochon Necklace – Anjali Kay Creations
Lord of the Rings Scarf Infinity Scarf Elvish Script Scarf – Aslidesign
Lords of The Rings Tree Of Gondor, Wood Case – EtchCraft
Tolkien Speak, Friend, and Enter Welcome Mat – Dam Good Doormats